Tree safety barrier installation in Spring Hill, FL, and the surrounding areas.
We provide and install highly visible tree safety barriers around worksites to prevent unwanted tree removal and to protect construction fences.
Since 2006, Ranger Services, Inc. has been committed to construction site safety and best practices. Our products and services are designed to keep worksites safe and prevent mistakes such as accidental tree removal. Tree barriers also protect major tree root systems from inadvertent damage from heavy equipment.
We provide and install tree safety barriers for construction sites on commercial and residential properties throughout Spring Hill, Brooksville, Wesley Chapel, and the surrounding areas of Florida within Hernando County and Pasco County.
---
Our Tree Safety Barriers Are Designed for Optimal & Heightened Visibility
On a construction site, it's important for workers to clearly see obstacles and other hazards, as well as be able to identify which trees need to remain on the property. To accomplish this, we provide heavy-duty tree safety barriers that are designed to clearly mark areas where heavy equipment should be avoided. Our barriers come with pre-attached wooden stakes that easily set into the ground without having to dig any trenches.
Using bright construction orange for our barriers ensures optimal safety compliance for all crew members involved and eliminates unwanted tree removal.
---
High-Visibility Barriers Keep Trees, Silt Fences, and Other Obstacles Safe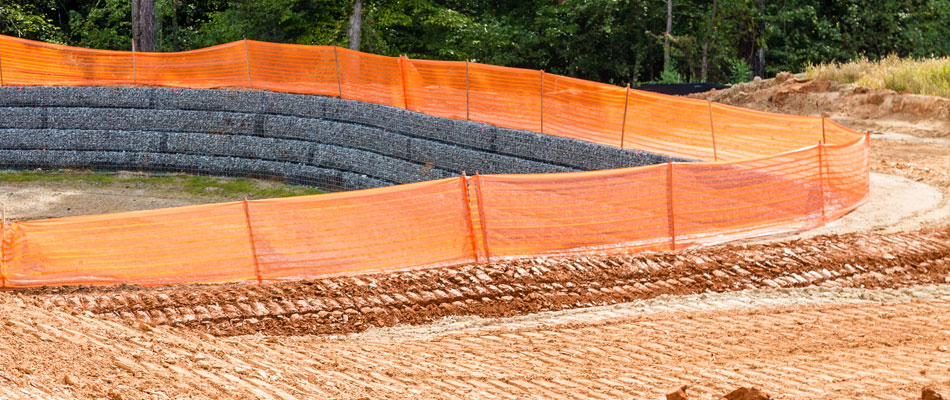 Our tree safety barriers are not only great for trees but also useful in keeping other obstacles around the worksite safe. Bright orange barriers easily mark entry and exit points into the site and make it easy for workers to clearly identify these areas to avoid accidental damage to the rest of the perimeter fencing. Silt fencing is another important aspect at any construction site and should be protected at all costs. We place our barriers right in front of the silt fence to clearly mark the area and prevent damage.
We use bright, fluorescent orange for all our tree safety barriers, as this provides optimal visibility among the work premises.
---
Why You Should Use Professional Tree Barriers
While you can certainly protect areas on your construction site with DIY methods, these options are highly ineffective and do not provide the visibility needed on a site. Many people tie ribbons around trees to prevent unwanted removal, however, ribbons can easily fall off and are not always easily seen. Our construction-grade tree safety barriers are durable and won't fall over or blow down. We use tall, bright orange woven barriers to clearly mark areas for safety purposes.
---
Protect your construction site with our durable and highly visible tree safety barriers.
At Ranger Services, Inc., we have over 10 years of experience installing tree safety barriers for construction sites in Spring Hill, Brooksville, Wesley Chapel, and the surrounding areas. Our tree barriers are durable and will help ensure worksite safety. Call us today at (727) 271-7209 to have our convenient tree safety barriers installed for your worksite.